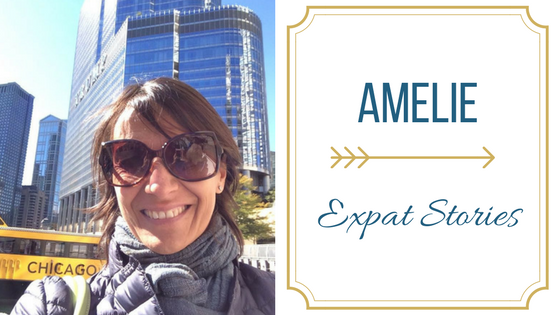 From Tampa to London, passing through Chicago
March 6, 2018
I sat in front of my PC feeling excited about the Skype call I was waiting for, I would be interviewing Amelie.
Ame (that's what I've called her for years) is a college friend, we studied Law together and we shared many years of life that were intense, funny and full of unique friendships. Then, as usually happens when college ends, we grew apart and took different paths.
I found her again on Facebook, followed her life around the world and, at a certain point, I felt closer to her when I started my expat experience too.
When we're far from everything we know and love, we find ourselves even more in the stories of those living similar experiences and facing similar difficulties. It's like a thin wire is created which connects us again.
The purpose of our chat was to allow me to listen to her and then tell you her story full of news, adventures and difficulties. I looked at her face on the screen and it was like no time had passed (okay, we are both a few years older but you know what I mean!), I immediately felt great and it seemed like I was  huging her again.
Here's her story.
Ame's expat life started in 2007 when she decided to move to Tampa, Florida with her husband and a baby on the way.
Despite all of the wonderful images we usually link to Florida, moving was not easy for her: "I left my job, I didn't speak a word of English, it was difficult to find places to meet other people and enter into deeper relationships with people from cultures far from mine, all with a newborn baby".
The feeling of loneliness after moving is difficult to explain, it is profound. Everything is new and even the simplest gestures you naturally make at home now require research, organization and effort.
It's a slow and methodical job that asks you not to give up, to keep trying, looking for what's right for you. But trying always pays off, and allowed Amelie to meet "her American sister", as she defines her.
Your sisters abroad have an unmistakable value. They are home, family and friends all at the same time, "they pull you out of the house when you just want to stay in bed, and when you're in trouble they look after your daughters as if they were their own". Meeting people like them gives you energy and perspective again, which is what you need to plan your new life and feel good.
"After seven years in Tampa and a second daughter we missed the city, the changing of the seasons, so we sat down to look at new possibilities. In 2014 we decided to move to Chicago and I immediately fell in love with this city. "
There are places that inexplicably give us what we need in that specific moment, help us to approach them with the right curiosity and perspective and, when we are ready and positive, it becomes easier to fit all the pieces together: "The new challenge, this time, was not only to recreate a life for just myself, but also to support my daughters who missed Tampa and their friends ".
So you add a little brick every day, to build your new home; new school, time for yourself, visit the city and, with a little bit of luck, find your first new friend.
But then, when everything finally settled down, came the proposal of moving to London!
Behind every transfer there is not only the physical effort to organize everything, there are many different needs to consider, the sadness of goodbyes, and having different expectations. As mothers we often don't even have time to think about what we feel, what we want from the future, to take care of ourselves because our children's needs are strong and the sense of responsibility presses upon us.
In London, a new chapter of life began for Amelie, a new culture, a new dimension, a new label for relationships. Everything is still in progress.
WHEN DO YOU FEEL "HOME"?
– when we are all together
– when I still have some of the things that followed me in every transfer (my grandmother's cupboard is with me wherever I go), they give me a feeling of continuity
– where my daughters are peaceful and happy
RECOMMENDATIONS FOR ANYONE WHO'S ABOUT TO MOVE?
– accept that it is an adventure where not everything will go as planned
– be curious about new cultures: if we don't embrace and try to understand the diversity of those around us, there's a chance we will not fully live our experience and feel isolated
– enjoy every minute and every single experience you do, because you can't know how long you will stop or if a new transfer is around the corner
WHAT WERE THE BIGGEST DIFFICULTIES?
– the language I didn't know
– the different way to relate and express directly what one thinks
– food and eating habits
WHAT ARE THE MOST PRECIOUS THINGS YOU BRING HOME FROM THESE EXPERIENCES?
– bilingualism for my daughters
– different cultures and foods: I now like some things I didn't know and I learned to cook new things
– American friends who will always remain in my heart
– ability to adapt to new things I developed
DREAMS FOR THE FUTURE?
Maybe get back to the United States, I feel like my story is not yet finished there. It is where I "grew" as an adult and where I'd like my daughters to go to school.
If I think about myself, I'd love to find a passion and transform it into a job.
We talked a little bit more, knowing that those on the other side of the screen understand perfectly what we are talking about. I greeted her with that great feeling of having found her again, who knows if we could manage to hug each other in person during a trip to Milan.
I believe in the power of sharing our stories and experiences. As Expat around the World it helps us to connect, belong, learn and support each other.
Would you like to share your stories and experience? Write me to