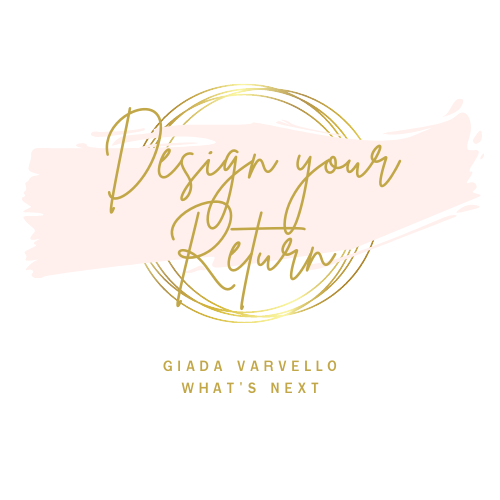 DESIGN YOUR RETURN
THE GETEWAY TO YOUR COMEBACK
4 weeks to get clarity and save months of wondering with no results
---
WHAT IS DYR
Design Your Return is an ONLINE PROGRAM that will help you understand WHAT YOU WANT from your new professional life after a voluntary career break.
When you start thinking about your return, you have many options to shape your professional future: you can choose the corporate world, try a small size company, maybe a private practice, or maybe you feel it's time to open your own business.
Each of these choices requires different tools to support you and today you have so many valuable options in the market. But whether you decide you will go for it alone or seek help, in order to focus and to invest time, money, and efforts wisely:
YOU NEED TO KNOW WHAT YOU WANT FIRST! YOU NEED A DIRECTION.
IF YOU FEEL THAT YOU CAN'T GO THROUGH THIS PROGRAM ALONE AND YOU PREFER TO DO A ONE TO ONE JOURNEY WITH ME:
---
DYR IT'S FOR YOU IF
you're stuck and you don't even know where to start from to figure out what you want and your "new direction" in the world of work
you want to go back to smile and be thrilled when thinking about your professional future
you have loved dedicating time and energy to your family but now you miss having something that it's just yours, you need to find yourself again
you need help to foucs and take action because you have many ideas in your mind, you start everyday something different but end up with no results and no direction
---
WHY DYR
When I've moved to Switzerland I've decided to take a career break after 15 years of corporate experience. I've been where you are now:
I've been through the struggle of figuring out what I wanted from my life and job in my 40s, through the blocks that stopped me to take action again, through the feelings of "not being enough", through the fear of creating something from scratch in a foreign country.
And I managed to create a job that reflects who I am and allows me to have an impact in this world:
today I help those who moved abroad and got lost in their professional life, to take charge of their career and align it with who they really are. Many of my clients are women who moved abroad, took a career break, and got professionally lost.
I've started supporting them through individual sessions, but listening to many stories of creative, successful women who find themselves stuck; observing their difficulties to discover a new professional path that fulfills them, have inspired me to find a way to have a bigger impact supporting many more women, everywhere.
That's why I've created DESIGN YOUR RETURN!
In my case, as in that of all the women I've worked with, I saw a first major common denominator. We underestimate the importance of three key points: clarity of who we are and what we want, the need to make conscious choices, and the ability to create an agile plan to move forward.
What are the side effects of underestimating these three points?
If you don't get clarity about who you are and where you are today: you'll start reacting and not acting with a conscious purpose. This will often generate few responses, several rejections and make you feel, in a short time, completely overwhelmed
If you don't consciously choose from the many options in your head, you'll jump from one idea to the other, not feeling good in any of them, and eventually, enthusiasm will turn to frustration
If you don't create an agile action plan: you may find yourself, after investing a lot of effort, time, and money, in a place that you don't like and that doesn't fulfill you. And this is even worse for your mood and self-esteem because it's a bit like finding yourself back at the starting point
---
WHAT WILL YOU GET
clarity about who you are and where you are today
you will know if you are ready to return to work and get prepared for it
you will understand what you want from your professional future and WHY
you will figure out possible working options
you will learn how to choose consciously
you will make an actionable plan to experiment and learn from reality
---
HOW IT WORKS
The program is completely online: content and self-work.
After finalizing your purchase you will have access to a reserved area on the website.
It will last 4 weeks and consists of 4 Modules.
Starting from Tuesday, March 1st, every week a new Module will become available for you in the dedicated area.
Each Module will provide you with contents, explanations, resources, and exercises to be done in order to take action and move forward in your journey and requires at least 10 HOURS OF WORK PER WEEK.
10 hours is the average amount of time it took for those who did the program and wanted results in 4 weeks. Of course, you can decide to give yourself more time, but please be careful because while searching for your direction it's easy to get lost along the way. Sometimes it's worth giving yourself tight deadlines. It's also a way to train your focus and ability to get things done. Two skills you'll definitely need to bring your action plan to reality once you're done with the program.
DEDICATED SUPERVISION: at the end of each week you will upload the results of your work. The week after you will receive an email, offering some tailor-made reflections and support where necessary.
You will have a dedicated email address where you can ask QUESTIONS. The answers will be published in the Q&A area so that you can also benefit from other people's questions and perspectives.
DUE DATE: dedicated supervision and Q&A will be available only during the 4 weeks of the program. Access to the material will be available for you for 1 year.
---
WHEN
After testing DYR online program with women of different nationalities, cultures, professional backgrounds, and different ideas about their professional futures.
The program will run only 3 times a year:
September, January, and March
In order to guarantee you the best experience and support, the number of places is limited.
HOW MUCH
Once you will register to the waiting list you will receive all the details about the costs.
HOW TO APPLY
If you are interested, you can click on the button below to reserve your spot for Marc 1st 2022! After filling in your order you will receive all the details for the payment.
IF YOU FEEL THAT YOU CAN'T GO THROUGH THIS PROGRAM ALONE AND YOU PREFER TO DO A ONE TO ONE JOURNEY WITH ME:
---
It's not for you if
If you want to remain comfortable and keep complaining about your situation. I feel you, in your fears and difficulties but I know from my experience and from the ones of my clients that there is no way to avoid them to achieve your goal. You need to be willing to go through discomfort to then be able to enjoy your new future.
If you are looking for reflection itself. Even if self-reflection is an important part of this journey, it's always done to make you feel stronger in acting and trying. So get prepared that for each module you will use your learnings in real life.
If you're looking for someone providing an answer and who's doing the work for you. There's not just one answer or option for you to shine and enjoy your professional future. There are many options out there and they won't appear magically, they're the result of massive work, actions, and failures. My commitment to you is to give you the best tools and support so that you can FIND YOUR OWN WAY, but YOU will be the one who needs to do the work!
If you are looking for someone that will just review your cv, your LinkedIn profile, and your applications this training is not for you! To avoid any misunderstanding: I am not a head hunter or a recruiting agency. Even though these tools and their preparation can be part of your future journey (depending on your choices), they have no meaning, or they will only create trouble and frustration if you don't do some work before.
I'm looking forward to hearing from you hoping this will be YOUR FIRST STEP IN DESIGNING YOUR RETURN!
---
WHO ALREADY DID IT SAYS…
"Design your return" has been very beneficial to me. Its name – so appropriate – was really calling me and I embarked on this journey with no expectations, I had no idea what I was aiming for, except finding a new path for myself . Giada was fantastic, I felt very at ease with her from the first moment and this helped me to commit on more levels. DYR is very well designed and holistic, and requires a deep journey within. The course sets objectives for what one wants to accomplish, identifies own values, tackles current work/life issues and explores future career/life ideas. It provides many tools to face all the steps and Giada is always available when needed. She is professional and empathetic. The exercises Giada assigned during each session were relevant to push me forward, to get me to the place I needed to be and feel positive. Giada helped creating a plan that moved into action and fueled my desire and excitement. After working with Giada, I was able to clearly articulate a future vision for myself and define my priorities to achieve greater life balance, which is having a significant impact on other aspects of my life. It was a healing journey to me, and I gained the right to dream again and clarity to make the dream come true, step by step, one day, peacefully. This journey brought me back to myself.

Cristiana D.
I would highly recommend Giada's Design Your Return program. It was very helpful for me in clarifying my priorities as I narrow down my return to the workforce, providing support and a path to determine how I could re-invent myself and what the different potential scenarios look like, and developing an action plan to make it happen. It's a well thought out program and I highly recommend it!!

Tracy G.
"Working with Giada was an amazingly refreshing experience. Her program particularly encouraged me to clarify my objectives and push forward in improving the action plan for my business. Throughout this program, I was able to acknowledge my strengths and weaknesses, which gave me a great deal of daily motivation and made my work that much more personal. I highly recommend Giada if you are looking for someone to help you figure out "What's next". Her program created a wonderful journey that enabled me to grow into a better version of myself and strengthen my business." would highly recommend Giada's Design Your Return program.

Carmen S.
I"I am very glad that i joined DYR program. Very easy to follow and triggering the deep thoughts to get out of the comfort zone and helping you to act. if you wanna organize your thoughts to Design your return to workforce i would highly recommend you to work with Giada. "

Seliz V.